The EnCHiL Nordic Master Programme. Practicalities
Application Deadline
Next application deadline is January 31 for non-EU/EA students or April 15 if you are an EU/EEA student. The programme starts in the fall semester only.
Important dates in the procedure
If you are a student from a non-EU/EEA country:


1 December – 31 January: send us your application using the AUI online application portal. You can expect a letter of admission or rejection from the admissions office by mid-April.
If you are

a student from a EU/EEA country

:
1 December – 15 April: send us your application using the AUI online application portal. You can expect a letter of admission or rejection from the admissions office by mid-May.
Fees
In Iceland, all Icelandic and foreign university students at are required to pay annual registration fee of 85.000 ISK. In Finland all university students have to pay annual student union fee of 103 EUR. In both Finland and Sweden students from outside the EU/EEA area have to pay an annual tuition fee which can vary between 11.000 to 27.000 EUR depending on programme, university and country; but in Iceland no tuition fees are charged from international students.
Since all EnCHiL students will be jointly registered at UH:AUI or LU:AUI, the universities have reached the following agreement:
 EU/EEA students:
Annual fee consisting of ½ of the normal annual registration fee at AUI and the UH student union fee for those who have UH:AUI as joint registration (currently ≈ 300 EUR and ± 103 EUR)
Non-EU/EEA students:
An annual flat-rate tuition fee of 9.000 EUR, which includes all the registration and student union fees.
In the programme – handbook for students
For general questions about the EnCHiL Nordic Master enquiries should be directed to enchil.admission@lbhi.is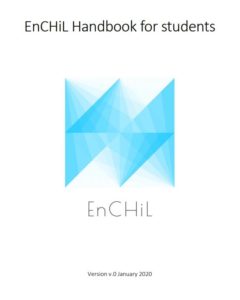 Q & A
Q: How many approximately follow the programme every year and how many students in every city (Helsinki, Lund or Iceland)?
A: In practice, due to housing issues at the Agricultural University of Iceland and infrastructure limitations in Greenland, we have been aiming for maximum of only 20 students per year, 7/7/6 starting in each country. During the first years of the program we deliberately started with smaller student groups (<12 students), but from 2023 we are aiming for 20 students.
Q: Is it possible to do a thesis at a non-partner university? Where have students typically do their thesis projects?
A: Most students have so far submitted their thesis projects at the Lund University or University of Helsinki, and some at the Agricultural University of Iceland (the degree-awarding institutions). Within EnCHiL students can also submit their thesis at Aarhus University in Denmark , Estonian University of Life Sciences and University of Oulu in Finland (associated EnCHiL universities).
Students can do (and have done) a research project in connection to other universities, but their theses course would then be registered at UH, LU or AUI, and the responsible researcher would become an external supervisor in the thesis course.
Q: What jobs have EnCHiL alumni pursue?
EnCHiL alumni are either doing their PhD at top universities or working in environmental-related positions.
Q: Does EnCHiL offer scholarships for (international) students?
A: We do not have a scholarship program, but all Enchil students receive funding (e.g. from Erasmus) for their compulsory mobility periods (first spring semester for University of Helsinki (UH) and Lund University (LU) students travelling to Iceland, or AUI students travelling to UH or LU in the second fall semester). Also, Enchil covers the expenses of students going to a course in Greenland. Finally, Enchil covers the student's health insurances during these periods. So, in a way, all Enchil students have a sort of Scholarship.
Q: Can EnCHiL studies include an internship period?
Lund, Helsinki and AUI allow students to do up to 10 ECTS as internship courses.
Academic Strengths and Research Exellence
The EnCHiL consortium is formed by three main partners and four associated partners. The academic strengths and research excellence of the main partners (Agricultural University of Iceland, University of Helsinki and Lund University) provide a very strong technical and scientific foundation, as well as a unique Arctic experience that will deepen the students' understanding and knowledge about high latitudes, as well……..
Agricultural Univ of Iceland
The Programme is funded by the Nordic Council of Ministers